TRUSTEES

If you are interested in becoming a Trustee of the PCPLD Network, please get in touch with us at info@pcpld.org
The current trustees are:
Gemma Allen (Chair)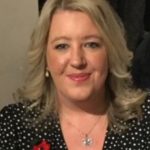 Gemma Allen became a Trustee in 2019, and Chair in 2020. She is the Palliative Care Inclusion and Community Partnerships Lead at The Mary Stevens Hospice, Stourbridge where she has worked for six years.  Gemma's passion for good palliative and end of life care for all has resulted in numerous projects working with, and alongside, marginalised communities, enabling access and increasing awareness of palliative and end of life care. Gemma works closely with people with learning disabilities, listening to their stories and working alongside them to enable positive change within the hospice setting.
Gemma is the Chairperson of Dying Matters Dudley, a collaborative community group with the overall aim of lifting the lid on death and dying, encouraging and supporting the Dudley community to have open, honest, rich conversations around preparing and planning for end of life. She is a founder of The Midlands Palliative and End of Life Care for People with Learning Disabilities Network, launching May 2019 in partnership with Birmingham City University.  Gemma is currently studying MSc Health Research at University of Birmingham.
Annie Stewart (Secretary)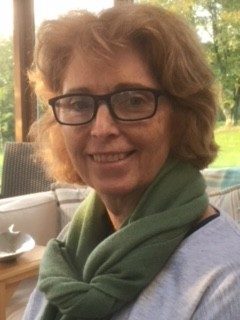 Annie's working life has all been in Devon – initially as a GP principal for 8 years and then for 18 years as an Associate Specialist in Palliative Medicine within a hospice inpatient unit. She retired 3 years ago but retains a firm belief in making excellent end of life care accessible for all. She first became involved with the PCPLD following on from its National Conference being held in Devon in 2010.  She subsequently became a member of the Management Group (or Steering Group as it was called then) and early in 2017 became a trustee & secretary of the PCPLD Network.
Steve Mitchell (Treasurer)

Steve was co-opted as a Trustee early in 2017 as Treasurer after having been the independent financial examiner to PCPLD for several years.  He has been involved in Finance for all of his working life, firstly with a multinational pharmaceutical company, first as the Area Finance Manager for the Middle East & North Africa Region and then as Commercial Manager for the Middle East & Africa.  In 2004, he joined a Hertfordshire based mental health charity (Mind) as Director of Finance and stood down in 2012.
Irene Tuffrey-Wijne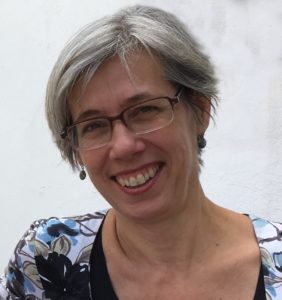 Irene Tuffrey-Wijne has been actively involved as a member of the PCPLD Network from the beginning. She has served as its chair from 2008 to 2014, and again from 2019 to 2020. She also chairs the judging panel of the Linda McEnhill Award. Irene is originally from the Netherlands, where she qualified as a nurse in 1985. She is a member of the L'Arche London Community for people with learning disabilities (she lived and worked there for 8 years when she moved to England in 1985), and also spent 8 years working as a palliative care nurse at Trinity Hospice, Clapham. She is now a professor of palliative care and intellectual disabilities at Kingston University and St George's University of London, where she has done research into the topic since 2001. Irene is passionate about improving the support people with learning disabilities receive at the end of life. She is particularly interested in finding ways to involve people with learning disabilities themselves and listen to their voices. She is in demand as an international speaker and has published books and articles on the palliative care needs of people with learning disabilities.
Carol Gray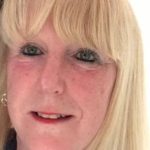 Carol Gray became a Trustee in 2019, having been part of the PCPLD network for a few years. Carol has lived in Devon for the past 11 years and prior to this lived in the Midlands. She is a Registered Nurse, a Queens's nurse and works as a Specialist Advisor for the Care Quality Commission. Carol has worked in Palliative Care for most of her nursing career and has a passion for palliative care. She is always looking to make a difference for all in palliative care and especially vulnerable groups such as people with a learning disability and older people. Her current role is Nurse Consultant for Palliative and End of Life care.
Sarah Yardley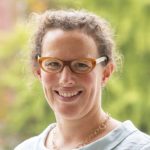 Sarah Yardley, BM PGCertClinEd MA PhD MRCP MAcadMEd is a Consultant in Palliative Medicine, Central & North West London NHS Foundation Trust and Honorary Clinical Senior Lecturer, Marie Curie Palliative Care Research Department, University College London. Sarah's research expertise is in qualitative methodologies, applied to health professions education, palliative care and patient safety through study of sociocultural influences, informal learning and 'real world' practices. Sarah's research interests include: how patients, families, carers, and healthcare professionals do the work of frontline day-to-day healthcare and make sense of their experiences; specialist-generalist interfaces in palliative care; and, the impact human-dependent interventions such as therapeutic relationships have on current and future care.  She is also on the Editorial Board for the journal Palliative Medicine and works clinically in a large palliative care service (hospital and community).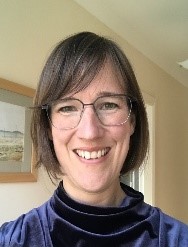 Dr Jo Elverson
Dr Jo Elverson is a Consultant in Palliative Medicine working in the North East of England. Jo works with both adults and children in hospice, hospital and community settings. She is particularly interested in improving care for young adults with complex conditions as they transition from children's to adult services, recognising the role that palliative care can play in supporting holistic care, planning ahead and making sure that young people and their families are able to have their voices heard.
Jo became a member of the Specialist advisory group in 2019 and has enjoyed learning from the other members of the group and contributing to discussions. She was delighted to be given the opportunity to join the trustees this year.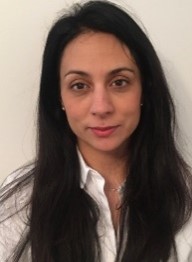 Valerie Potter
Valerie Potter BSc MSc MBChB FRCP graduated in medicine in 2007 and completed her  speciality training in London. She is a palliative medicine consultant at St Bartholomew's and Newham University Hospitals and co clinical director of the palliative care network across Barts Health NHS Trust. She is heavily involved in quality improvement and also in the training of doctors specialising in palliative medicine  as well as in providing palliative and end of life education to those working in other fields.  Valerie is experienced clinically in providing care to a range of people with both malignant and non-malignant disease and is passionate about increasing awareness of, and widening access to, high quality care. She has a specialist interest in palliative care for people with learning disabilities and became a member of PCPLD's specialist advisory group in 2019 and subsequently, a trustee in 2022. Valerie has authored several publications within her speciality, spoken at events and has contributed to a national curriculum for a medical module to link in with the new Advanced Clinical Practitioners in Learning Disability.

Louise Jenkins
Louise Jenkins is a Strategic Liaison Nurse in Hertfordshire's Community Learning Disability Nursing service which is a part of Hertfordshire County Council's Adult Disability Service. After qualifying in 1996 Louise has worked in many LD Nursing roles across residential care, supported living and community teams and has worked with many people with complex and deteriorating physical health conditions and a learning disability. About 10 years ago she realised that many people with LD were not being referred to Palliative care services and linked up with her local Hertfordshire services in a project that won a nomination of the Linda McEnhill award by the Palliative Care for People with LD network (PCPLD) and Louise became a member of the PCPLD Specialist Advisory Group in 2012. Since then she has worked collaboratively with palliative care colleagues in shaping and connecting the services to enable greater understanding of LD and end of life issues and increased referrals between services, and worked jointly to deliver training to social care providers in end of life training
Specialist Advisory Group
The trustees are supported by the Specialist Advisory Group to help with the day-to-day responsibilities. This group includes people with learning disabilities, a family carer, and people working in the fields of learning disabilities or palliative care. The current members are:
Peter Allum (representing people with learning disabilities; based in London)
Pat Charlesworth (representing people with learning disabilities; based in London)
Kumar Cithambaram (Lecturer at the School of Nursing & Midwifery, Queen's University Belfast)
Jo Elverson (Consultant in palliative medicine at St Oswald's Hospice, Newcastle)
Louise Heatley (retired support worker in the L'Arche London community for people with learning disabilities; now part-time teacher for children with special needs in Dorset)
Louise Jenkins (Strategic Liaison Nurse for Secondary care & Tertiary care, Hertfordshire county council learning disability services)
Sian Mair-Wilson  (Family Carer, previous Community Learning Disability Nurse & Practice Education Facilitator. Now Independent Advisor. Based in Wales)
Catherine Wood (Family Carer, previous direct support worker and manager of Learning Disability Services. Based in West Yorkshire)
Valerie Potter (Consultant in palliative medicine at St Bartholomew's Hospital, London)
Sharon Prowse (senior manager at Freeways, a charity supporting people with learning disabilities in Bristol)
Jean Willson (representing family carers; based in London. Winner of the Linda McEnhill Award 2014)
Web and social media manager
Anastasiya Stravolemova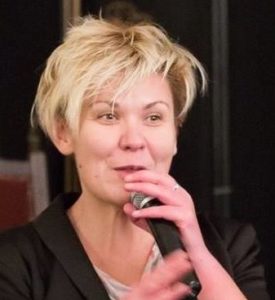 Anastasiya Stravolemova  has over 6 years experience as a radio editor, presenter and producer, hosting several morning and night live programmes focusing on current affairs and culture. In the past few years she has been actively working as a creative, cultural and educational events producer for educational and government organisations. MA Journalism and Mass Communications and MSc Economics graduate.
Anastasiya Stravolemova is working behind the scenes to manage our website, social media and communications. If you have relevant information you would like to share (for example, about events or new developments), or you have ideas for webinars, podcasts or other outreach activities, contact her on info@pcpld.org.